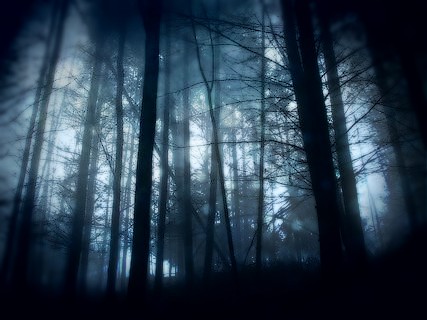 Her breath dissipated in front of her eyes. Trees stretched up above her head and swept past her lazily. She was alone. For a moment, she could feel how slow her breaths were in her sleep before the lucidity faded into the mist. There was only

Silence.

She was, indeed, so very
very
Alone.
She wandered, and wandered, and wondered, and wandered. How could one person be so isolated? There were no birds, or critters, or bugs, or worms, or maggots - There was not a single breath of life that joined hers. Not even the leaves crunched underfoot. Her voice made hardly a sound when she called out. "Hello? Is anyone there?" No. Of course there wasn't. Why would there be? Who would want to travel with her?

A whistle - No. A tune. It flitted and hid in the leaves of the trees, so far away from her. Agonizingly slow, she ran and ran, trying to find the tune. It evaded her. Mocked her. She heard the gasping, ragged breaths so loud in her ears...... Were they really hers...? She looked back, expecting to see something.

Nothing. No trees. No mist. Nothing.
And that thought terrified her even more.
She looked away, ahead, and forgot what she saw, in hopes of holding her life and soul tight. Her lids grew heavy, and her legs ached, but she didn't want to rest. Her feet wouldn't move fast enough, and the tune started to fade. No, She had to know! She pulled at her feet, feeling stuck in the ground, trying to make them go faster. She cried out in effort and frustration. She had to know.

Her face hit the rough sand, her feet finally relinquished from the pulling of the forest. Sounds of the sea enveloped her, and tears welled in the joy of finally being with something. Or perhaps it was pain. Pebbles crunched as she pushed herself to her feet.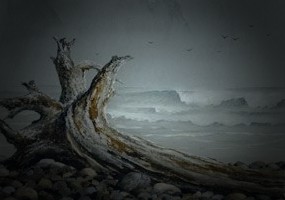 Water crashed on the rocky shore, slowly ebbing and washing away the shoreline, even though it had yet to over so long. Yet, she was still alone. Just not as alone as before. The tune accompanied her, growing louder as she walked down the beach. Mist still followed her as well, only giving her so far to see. She rubbed her eyes, trying to see further, but no.

Now, instead of the forest dragging her to a crawl, she eased her way along the shore. She felt more... awake. Which was odd, in a dream. It wasn't as eerily quiet, and she could hear herself much better as she hummed along to the music. Had she not been so calm, the tranquility that dampened her would have scared her. She felt so little, that not even fear could escape the abyss of apathy.

She looked up from the pebbles and paused. A well... When had she missed that? It sat in the middle of the beach, useless to whoever had once wished to utilize it; the rope was severed and frayed. But it was the young man that held her attention.

He played a flute, his back to her as he sat on the edge of the well. He had fair locks upon his head and simple clothes. She almost didn't know what to do; She had been alone here for so long. Long? How long...?

"Hello?" Her voice croaked. He stopped. They didn't move, each waiting for the other to continue. How much longer? For when he finally placed the instrument down and stood, he aged. His hair dulled of its original luster, and his form shifted ever so slightly into someone... older. She barely saw what once was of his face, before she recognized it in its transformation.

"P... Paul?"