The Red Duchy, a kingdom and world power surrounded by dauntless mountains and two large islands with dark secrets. This duchy, striving off of war and mass trade was feared by many nations. Though, no one knew why. The dark rumors surrounding the duchy, that it was filled demons, that it was ran by a mad king, that it was plotting the destruction of the world... No one believed these rumors, but something about the mysterious duchy made a small part of the common wealth to believe these rumors.

Royals and the upperclassman were as much in the dark though. Even being within the glamorous walls of the Duchy's most proud castle sent chills down their spins. It was a haunting place, some would say. Others calling it a place devoid of what made a person a person. It was a haunting site to see the old king sit upon his throne, next to him his pristine wife and a woman devoid of all emotions. None could explain the sudden fear they felt upon seeing the three there, no matter how pleasant the conversation came to be.

However, the travelers were spared these terrible emotions and feelings. Upon reaching the nearest outpost, they were given shelter there, beds, baths, and clothes to change into if they so wished. It took a day and a half for a royal carriage to be brought there, picking the small group up. The ride to the terrifying mountains that surrounded the duchy was a relatively short one; royal horses pushing forward no matter what.

The mountains were another story, living to their terrifying rumors. Fearsome, unnaturally tall, and dead. It was as if the sky darkened once stepping forth upon the ragged and rugged path that led them through the border of the Duchy. Zinnian was present during this part of the trip. Cold eyes leading the carriage as if her life depended on it. She knew something lurked there, something that wasn't her. Most of the rumors were about her... But somethings she didn't do happened... And it was disturbing enough to put even the shadow on edge.

Though, the mountains would eventually end. Grass, dirt, and trees returning to the scenery. And there they were. The Red Duchy in all of its true glory. It was an amazing site to behold. Open, grassy fields dotted with enchanting looking forests and towns and cities filled with extravagant houses. The Red Duchy believed all who were born their were truly something special. And all people lived in a certain life of wealth. It may seem as if such a life would make them snobby, but far from it. They were extremely humble. After all, the Red Duchy gave them these lives... And within an instant they could take such a life away.

With the grand forests and settlements behind though, a fearsome looking city would come into the distance once reaching the shore. A storm came about, sadly enough. But it only added to the grandness of such a city. Tall, fearsome, lights flickering within the base of it signalizing more lavish buildings and work places, tall statues depicting the gods the Reds worshiped, and lastly the impossibly large castle set atop the vertical city. This was the heart of the Red Duchy, where trade was made, where people were made wealthy, where the Reds themselves lived and breathed. A city devoid of almost all crime and a city that feared its rulers. This was the castle city of the Red Duchy, the Red Duchy itself.

-----

A soft sigh would escape the young man as he leaned his back against the soft chair within the royal carriage. He really didn't see the need in all of this... It was a welcome change from being on a horse, mind, but to be treated so lavishly despite his origin... It made him feel on edge. This was actually the first time he'd meet a lot of his family. He had never met his father nor his mother, and he knew a lot of his siblings despised him. Kaya and Anenia being exceptions along with the Shades, according to Zi. But, it still frightened him. The fact his parents actually wished for his wedding to be here... It seemed odd.

Though, the young man would push those thoughts aside. He had to focus on how to make himself seem more proper. The carriage was reaching the castle's imposing door now, and a cold feeling surrounded his heart. He was nervous. Truly and utterly nervous for the first time in a long time. He had fought battles he had no idea he'd win, he had saved Liniel from her terrifying father, he even met both of Eva's parents... And yet this terrified him the most.

Eventually the carriage would roll to a stop. The man driving the carriage hopping off and blowing a horn he had with him the entire drive. The doors would slowly open, and once fully done so, the carriage driver would open the door and call out the names of all who were in it.

"Nilo Red Lockwood, Harpist of Emotions. Evandra Aydelore of the Aydelore Ranch. Liniel Spade of the Spade family. Arturo Shade, Father of the Mad." and, with instructed order from Nilo, they would come out of the carriage and head too the door. He'd wait for Eva, extending his hand to take hers in it if she'd do so. It was a norm in the Red Duchy to show affection in public in subtle ways, hand holding, sitting close together... Small, but intimate things.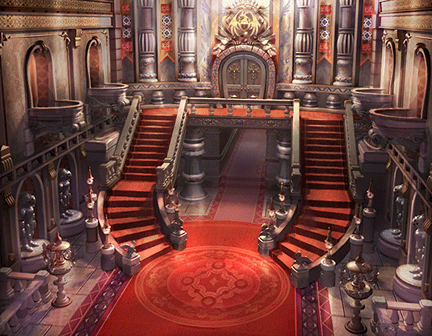 Regardless, the young man would head inside the grand doors, being greeted with a huge and beautiful foyer. It definitely lived up too its name as the Red Foyer. The young man would take a few seconds to take it in before he heard the distinct squeal of a familiar voice. He'd turn to look up the stairs, but before he could do so, he felt the tight wrapping of a hug.

"Oh goodness! Nilo! Oh, it's been too too long! How many years has it been? Five hundred? Oh, maybe less... Was it months? Can't seem to remember! Oh, but it's so good to see you again, you little brother of mine!" the black haired adventurer, Kaya, would say. She'd jump back after a bit, happily looking at her younger brother. He seemed different somehow... More mature? Probably!

"N-Nilo... It is great to see you." a timid voice would call out as a beautiful young woman would make her way towards him. She was wearing very soft, pink colored robes. A ribbon tied to large gold rings resting on each of her arms. Her hair was painted pink, and so were her nails. She was the idol of the Red Duchy, Anenia. This was truly the first time the two have met, even with the few letters she had sent him over the years. It was a happy reunion, in a way.

Though, before the boy could respond, a thunderous roar came from above. And before the young man knew how to react. Rio and all of her children, save for Sana, were around them with happy smiled and many many... Many questions. And Nico found his way beside Kaya, as eager as the children to ask questions... Though, Rio would stay quiet and wait for Arturo to walk through the door. How long had it been since she'd seen the man? She couldn't wait...

"I-It's great to see all of you again! B-But... Um, shouldn't we move to a sitting room and not stay in the foyer?" the young man would say with a small laugh. This was quite overwhelming... But it truly was a warm welcoming. Zinnian was even standing off too the side. Was she trying to show her support? She was with them the whole time though... So who really knew.