In Inceptum Finis Est
Latin: lit; 'in the beginning is the end'
The Beginning Foreshadows the End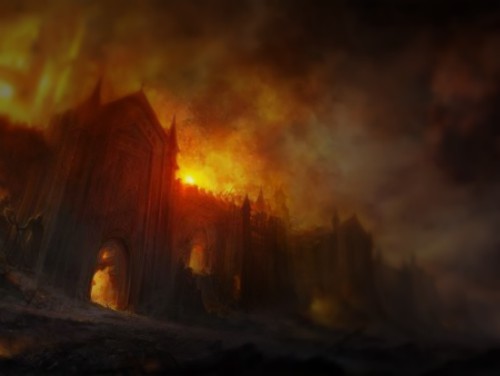 Smoke billowed in the night sky, making it even darker, and the light of the fire seem even more brilliant. Ashes still burned in her throat and stung her eyes - or at least that would be what she would say, should anyone ask why she was crying. Yet, her eyes stayed locked on the flames that tore through Estëmen. She couldn't - wouldn't -  look away from it.

Her home. Everything she had ever known for so long. People who she had known her whole life now laid bleeding in the streets. Another stream of tears made a new track down her dirty face. She had tried so hard; She was so ready to serve her homeland, her people, just like her uncle. She had taken down a couple of invaders. It didn't matter what they claimed their cause to be. Murderers, the voice inside spat bitterly. Her shoulder still ached from where she had fallen down a few steps, only to be met by the glossy, empty eyes of a child, still being clung to by an eerily still mother. Innocents.

She could have done something. She should have fought harder, or run faster - Anything. No matter how much they told her she couldn't do more, how she would die, or how much poppy powder they blew in her face, deep in her heart she knew she could have turned the tide.

Her brows drew closer at the age old argument as another building collapsed and fell beyond the wall. She knew she could be great. She could save so many people, and yet they continued to try to protect her, just because of who they claimed to pursue. But Eva meant well, and Nilo followed in motive, and Art fought so hard to help her. Their help, their concern, their love; It all smothered her. She could have saved her home if she had just stayed. Her eyes fell to her covered wrist, her hands still tied in front of her. 'They can't even trust me enough to untie me.' Rightly so. She would run all the way back. She would fight until she swung at nothing but ashes.

Even if she had died... It wouldn't be less than what she deserved. Heretics were being hunted in the streets of her home. She was being hunted. Maybe if she had died for her people, she would be forgiven. The shock of tears falling onto her arm pulled her from her internal struggle. She turned her head, her back cracking from being still so long. They trekked up the mountain, away from the city, on horseback; Eva and Nilo beside them, her riding back to back with Arturo.

"Eva." She muttered. She knew it was useless and childish. However, It was the only thing that was echoing in her mind. "I need to go back." Her voice rose until the hoarseness in her throat clawed at her words. But she wouldn't be silent. " Untie me, I need to fight!!" She pleaded. Hopeless. Maybe if she fought hard enough, she would win. Maybe if she kept fighting, she could beat this, and she would be free...

So Childish.